SELL MORE SERVICES TO THE RIGHT BUSINESSES
A Team of Experienced Sales and Marketing Professionals

We have a Growth Mindset
We're constantly learning, teaching and coaching.
We Care
We are in this with you. Your success is our success.
We Have Fun
While we believe in results, we believe the journey can be fun. We enjoy our relationships with each other and our clients.
Meet Our Leadership Team
Meet a team of professionals with deep industry sales and marketing experience.
Lisa Dalton
Director of Operations
Lindsay Meade
Director of Marketing

We are proud sponsors of Sleep In Heavenly Peace. 
All children deserve a safe, comfortable place to lay their heads. Across the US, too many boys and girls go without a bed—or even a pillow—to sleep on. These children end up sleeping on couches, blankets, and even floors. This can affect their happiness and health.
That's where Sleep in Heavenly Peace comes in. This group of volunteers is dedicated to building, assembling and delivering top-notch bunk beds to children and families in need.


End to end the whole process was both philosophically and concretely practice-related. The whole process was so positive for us. It challenged our perspective of how we're seeing things and made us look at things in a new way and how we could approach things differently. And then actually walk away with concretes – we can do this to get all that. The process was really productive for our team.
The first step is for us to learn more about you and for you to learn about us.  We learn about your sales seat, your sales scorecard, and the specific challenges that  are prevening you from growing revenue.  You learn about our approach to help.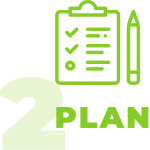 The first step is to develop a plan.  This plan ensures that your leadership is aligned around your Ideal Clients, the Ideal Client Journey (Proven Process for businesses that run on EOS), and that there is a plan to optimize your People, Message and Systems to drive revenue growth.
This part depends on what you need.  We can help your team execute the plan or we can take a more active role with fractional sales leadership or even fractional sales professionals.
BOOK A SALES SCORECARD REVIEW

Get Ideas to Grow Faster
Your email will be kept private. You can unsubscribe at any time.
Convergo
Helps entrepreneurs sell more services to the right businesses with Fractional Services, Systems, Messaging.
ADDITIONAL INFORMATION
Scorecard Resource Center