SELL MORE SERVICES TO THE RIGHT BUSINESSES
 Fractional Services, Systems, Messaging
BOOK A SALES SCORECARD REVIEW
DOWNLOAD OUR EBOOK
5 STEPS FOR SCALING SALES AND GROWING REVENUE
Does this sound like you?
The wrong people are managing your sales team

Your Sales Scorecard is just not working for you

Your message is unclear and inconsistent across Ideal Client Journey/Proven Process

Your sales process is non-existent or not followed

Your CRM is not working for you

You don't have consistent, predictable sales performance
Sales should not stand in the way of you from growing your business.
BOOK A SALES SCORECARD REVIEW
Build in Visual Builder
This layout allows you the full ease of the Divi builder, without resorting to fetching library items.
Animation of the tabs is controlled using Divi's on-load animation options. Set a color background to the page so that any background colors don't flash through during the transition.
Some medium-level CSS is used to style the blurbs. You should be able to edit the icon, and text colors, as needed.
Compresses on Mobile
On mobile, the blurb tabs compress into buttons, with the icons left aligned.
You can manually control the break points of the tab titles by putting your text in the Blurb Description area, and inserting a <br> item.
This layout only works where the tabs have equal heights, controlled by equal lines of text. I've used the description area instead of the Blurb header area. This allows granular breakpoints.
We help you sell more services to the right businesses by optimizing your growth assets around your Ideal Clients and their journey to drive consistent, predictable revenue growth.
People – Your team is aligned around Ideal Clients and their 

Message –  Your message speaks to your Ideal Clients and guides them through their journey

Systems – You have playbooks to acquire and sell more to Ideal Clients and supporting scorecards and technology
WHAT OUR CLIENTS SAY
At Convergo we know you want to grow your business. The Convergo team has been helping B2B companies achieve success in sales and marketing for over 20 years. Here's what some of our clients have said:
"Convergo has brought EOS to our sales team. As our company's visionary, I like the process and focus Convergo has brought to the Wild West side of the business. As sales and marketing people are intent on selling to all comers, Convergo has helped us concentrate our efforts on our Ideal Client to make sales more predictable and repeatable."
Jim Millican
Visionary, Ashton Solutions
"Companies who have been running EOS® for a couple of years and have their operational foundation built should look at Revenue Growth Engine to take them to the next level. It is really EOS® for Sales & Marketing."
Forrest Derr
President, Altaworx
"We began working with Convergo in October of 2020. We dug deep into the concept of the Ideal Client Profile – who they are, how we can attract them, how we can find them, sell to them and continue to grow our business alongside theirs. Convergo helped by bringing our sales, marketing and client delivery teams together with a clear focus on our ICP – a game changer for us.
Evaluation of our book of clients from the beginning of 2021 to the end of 2021 found our number of clients who fit our ICP has nearly doubled in one year and we more than achieved both our revenue and profitability targets for the year. Having the team sing from the same song sheet around ICP has sharpened our focus and helped us hit our growth goals."
Julie Spear
Integrator, Bobsled Marketing
BOOK A SALES SCORECARD REVIEW
The first step is for us to learn more about you and for you to learn about us.  We learn about your sales seat, your sales scorecard, and the specific challenges that  are prevening you from growing revenue.  You learn about our approach to help.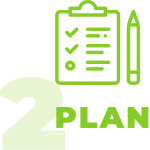 The first step is to develop a plan.  This plan ensures that your leadership is aligned around your Ideal Clients, the Ideal Client Journey (Proven Process for businesses that run on EOS), and that there is a plan to optimize your People, Message and Systems to drive revenue growth.
This part depends on what you need.  We can help your team execute the plan or we can take a more active role with fractional sales leadership or even fractional sales professionals.
BOOK A SALES SCORECARD REVIEW
Convergo
Helps entrepreneurs sell more services to the right businesses with Fractional Services, Systems, Messaging.